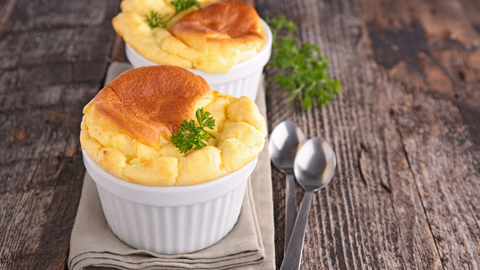 Ingredients
Preparation
Active time 1 hr 10 min
Ready in 1 hr 55 min
Preparation
Heat the oven to 190°C/170°C fan/ gas mark 5.
Grate the gruyère cheese.
Separate the eggs.
Melt the butter in a small pan and use some of it to lightly grease 6 x 250ml ovenproof baking dishes.
Sprinkle a little of the grated cheese into each dish and turn the dishes to coat the insides with the cheese.
Place the dishes on a baking tray.
Cut the tips off the asparagus and set aside. Cut off the woody ends from each asparagus spear, then cut the remainder of the spears into 5cm lengths.
Drop the stalks into a pan of boiling, salted water and cook for 6-8 minutes until tender.
Remove the stalks from the pan with a slotted spoon and then drop the asparagus tips into the same boiling water and cook for 2-3 minutes until just tender. Drain the tips.
Dry all of the asparagus pieces on kitchen paper, then tip the stalks (not the tips!) into a food processor and blend to a smooth purée. Season lightly and set aside.
Warm the milk in a small pan.
Reheat the rest of the melted butter and when it starts to bubble, stir in the flour and cook gently for 30 seconds. Take the pan off the heat and gradually beat in the warm milk until the mixture is smooth.
Return the pan to the heat and bring to the boil, stirring. Lower the heat and simmer gently for 3-4 minutes, stirring continuously.
Remove the pan from the heat and stir in the egg yolks, followed by three quarters of the remaining cheese and the asparagus purée. Season to taste.
Whisk the egg whites until soft peaks form.
Gently fold the egg whites into the cheese and asparagus mixture.
When fully combined, spoon the mixture into the prepared dishes, then push the reserved asparagus tips gently into the top of the mixture and sprinkle with the remaining cheese.
Bake for 20-25 minutes until risen, golden and just cooked through.
Serve immediately.
Nutrients (Per Person) These values are based on the recommended daily intake of a 2000 kCal diet
Of which saturates 9.00 g
Good Points
Source of Iron
High in Phosporus
Source of Riboflavin
Source of Selenium
Source of Vitamin A
Source of Vitamin B12
High in Calcium
High in Phosphorus
High in Folate