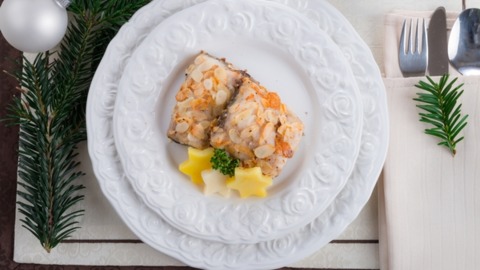 Baked carp fillets with almond flakes
Ingredients
Preparation
Active time 30 min
Ready in 1 hr 0 min
Preparation
Soak the carp fillets in milk for a night before preparing. Store it in the fridge.
On the day of preparation, rinse the milk off from the fillets.
Butter ceramic baking dish that is big enough to place all the fillets in, skin side down.
Season the fillets with the salt and pepper, gently rubbing the spice into the fillet's skin.
Sprinkle the almond flakes on, pushing them onto the surface of the fillets to adhere.
Preheat the oven to 200°C, and cover the fillets with an aluminium foil.
Place the dish into the oven then bake the fillets until they turn white completely. The excess liquid passing from the fillets should harden on the top and adhere the almond flakes this way.
For the last 5 minutes, uncover the fillets to toast the flakes a little bit.
Serve it hot.
Nutrients (Per Person) These values are based on the recommended daily intake of a 2000 kCal diet
Of which saturates 7.94 g
Good Points
High in Vitamin E
Source of Magnesium
High in Phosphorus
High in Vitamin D
Source of Riboflavin
Source of Manganese