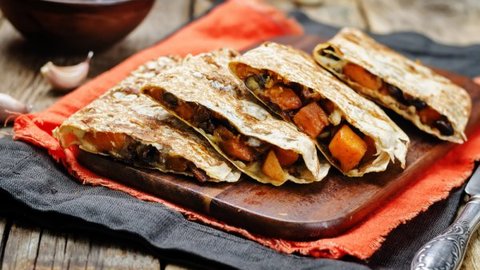 Black bean sweet potato quesadilla
Ingredients
Preparation
Active time 0 min
Ready in 1 hr 0 min
Preparation
Soak the beans overnight.
Drain and rinse when ready to use.
Cook the black beans until tender, for 50 minutes.
Drain and place aside.
Cut sweet potatoes in chunks.
Cook the sweet potatoes in a boiling water for 8-9 minutes or until fork tender.
Drain the sweet potatoes and mash using a potato masher.
Stir in the chili powder, cumin, and paprika.
Place aside.
In a meantime, heat olive oil in a skillet.
Add the onions and cook for 5 minutes.
Add garlic and cook until fragrant.
Toss in beans and stir well.
Combine with the sweet potatoes.
Spread the mixture over tortillas.
Fold in half.
Heat additional oil in skillet nd add filled tortilla.
Cook until warmed.
Serve.
Nutrients (Per Person) These values are based on the recommended daily intake of a 2000 kCal diet
Of which saturates 5.48 g
Good Points
High in Vitamin E
High in Potassium
Source of Copper
High in Vitamin B6
High in Manganese
High in Folate
High in Copper
High in Phosphorus
High in Iron
Source of Pantothenic acid
High in Riboflavin
Source of Calcium
High in Magnesium
High in Zinc
High in Niacin
High in Selenium
High in Thiamin