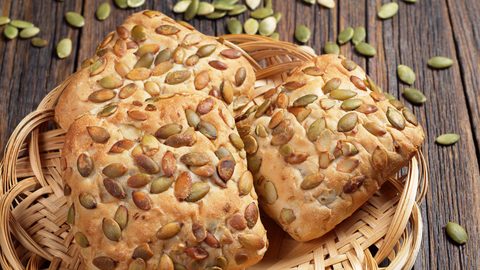 Brown Seeded Rolls, 1 roll
Ingredients
Preparation
Active time 1 hr 10 min
Ready in 1 hr 30 min
Preparation
Preheat the oven to 220°C/fan 200°C/gas mark 7.
Sift the flour and salt into a large bowl, then stir in the yeast.
Make a well in the centre and gradually mix in 300ml warm water and the oil until the dough comes together.
Tip the dough onto a lightly floured surface and knead for 5 minutes until smooth.
Divide the dough into 8 equal pieces and roll into balls.
Place the rolls (with plenty of space between each) onto a large, oiled baking sheet.
Leave to rise for 30 minutes or until doubled in size.
Brush with milk, scatter the pumpkin seeds over the top and bake for about 20 minutes.
Cool on a wire rack and cut in half to serve.
Nutrients (Per Person) These values are based on the recommended daily intake of a 2000 kCal diet
Of which saturates 0.66 g
Good Points
Source of Copper
Source of Iron
Source of Magnesium
Source of Niacin
High in Phosporus
Source of Riboflavin
Source of Vitamin B6
Source of Zinc
No Cholesterol
No Saturated Fat
No Sugar
High in Manganese
High in Phosphorus
High in Folate
High in Selenium
High in Thiamin