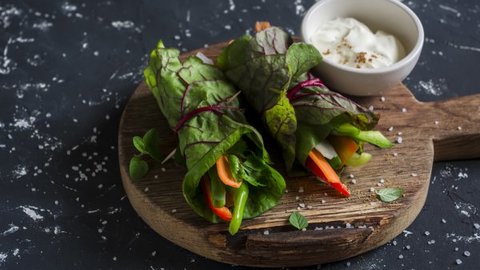 Ingredients
Preparation
Active time 0 min
Ready in 10 min
Preparation
Cut the chard leaves in half, vertically and remove the stems.
Peel and cut the carrots in matchsticks.
Peel the beet and cut in matchsticks.
Seed and cut the bell peppers in matchsticks.
Chop the chives and mint.
Place the equal amount of carrots, beets, and bell peppers onto chard leaves.
Sprinkle with chives and mint.
You can season to taste if desired.
Roll the chard around veggies creating a vegetable wrap.
Serve.
Nutrients (Per Person) These values are based on the recommended daily intake of a 2000 kCal diet
Of which saturates 0.05 g
Good Points
No Cholesterol
No Saturated Fat
Source of Vitamin C