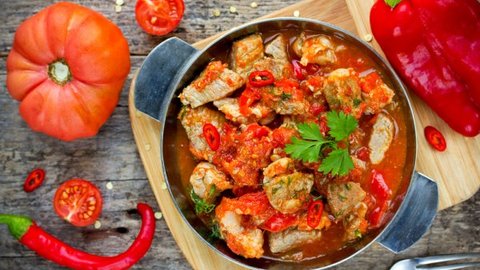 Chicken ragout with tomato and capers
Ingredients
Preparation
Ingredients
450 g chicken, cut into 2.5cm pieces
400 g tomato, pureed
300 ml water
4 tbsp capers
4 tbsp parsley, fresh, chopped
2 tbsp olive oil
2 tbsp butter
2 tbsp all purpose flour
1 pcs onion, chopped
2 sprig rosemary, fresh, chopped
2 clove garlic, minced
1 tsp salt
0.5 tsp black pepper
Active time 0 min
Ready in 45 min
Preparation
Heat oil in a large pot over medium-high heat.
Add chicken in a single layer and cook, turning once, until browned, 4 to 5 minutes total.
Transfer to a plate.
Reduce heat to medium.
Add onion then cook for 5 minutes.
Add garlic and capers, then stir just until fragrant, about 30 seconds.
Add water, puréed tomatoes, and chicken then return to a simmer.
Lower heat slightly to maintain simmer, cover, and cook for 10 minutes.
Season with salt and pepper, add rosemary, and cook for 10 minutes more.
Meanwhile, melt the butter in sauce pan; add flour and cook, stirring for 5 minutes.
Stir into chicken mix.
Simmer for 2 minutes and serve while still hot, garnished with parsley.
Nutrients (Per Person) These values are based on the recommended daily intake of a 2000 kCal diet
Good Points
Very low in sugar
Source of Niacin