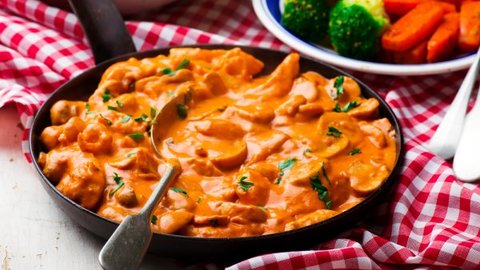 Ingredients
Preparation
Ingredients
420 g chicken breast fillets
300 g crimini mushrooms, cut into 1cm slices
230 ml homemade chicken stock
460 g coconut cream, unsweetened, chilled
2 tsp lemon juice, fresh
2 tbsp olive oil
1 pcs onion, diced
2 tbsp all purpose flour
1 tbsp sweet red paprika powder
0.75 tsp pepper, black ground
Active time 0 min
Ready in 30 min
Preparation
Heat 1 tablespoon olive oil in a skillet over medium-high heat.
Cut the chicken into strips and cook in oil for 6-7 minutes.
Remove the chicken to a plate.
Heat remaining oil.
Cook onion and mushrooms for 5-6 minutes.
Stir in flour, paprika, and black pepper.
Reduce heat to medium.
Add chicken stock and cook for 4 minutes, stirring occasionally.
Stir in lemon juice and coconut cream.
Simmer for 2 minutes.
Serve warm.
Nutrients (Per Person) These values are based on the recommended daily intake of a 2000 kCal diet
Of which saturates 37.61 g
Good Points
Source of Copper
High in Copper
Source of Magnesium
High in Phosporus
Source of Thiamin
Source of Vitamin B12
Source of Vitamin E
High in Iron
High in Manganese
High in Niacin
High in Pantothenic acid
High in Phosphorus
High in Potassium
High in Riboflavin
High in Folate
High in Selenium
High in Vitamin B6
High in Zinc