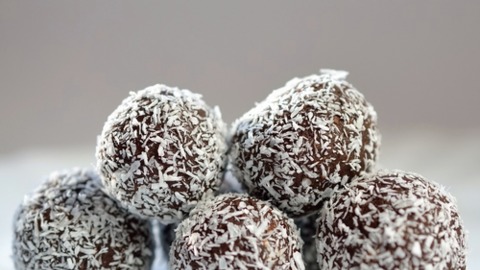 Ingredients
Preparation
Active time 15 min
Ready in 30 min
Preparation
Blend all filling ingredients in a food processor until combined (cashew nuts, coconut cream, coconut flakes, coconut oil, dates, vanilla extract).
Roll the mixture into small balls and place onto a baking tray.
Freeze for around 15 minutes or until firm.
Melt the coconut oil in a small bowl in hot water. Add the remaining ingredients and mix well.
Roll the balls into the coating mixture.
Nutrients (Per Person) These values are based on the recommended daily intake of a 2000 kCal diet
Of which saturates 43.63 g
Good Points
No Cholesterol
High in Manganese