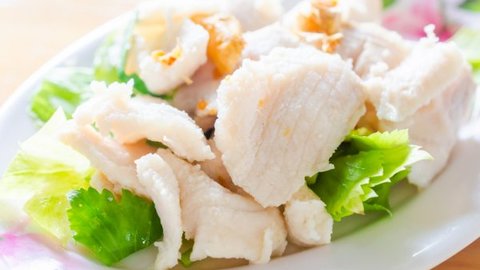 Ingredients
Preparation
Active time 0 min
Ready in 25 min
Preparation
In a large pan, combine the coconut cream, lemon zest, lemon juice, chili pepper, fish stock, brown sugar, and garlic.
Bring to a boil on high.
Reduce heat to low and add fish fillets.
Simmer gently for 10 minutes.
Remove fish and stir in baby spinach.
Cook until wilted.
Serve fish, topped with spinach.
Nutrients (Per Person) These values are based on the recommended daily intake of a 2000 kCal diet
Of which saturates 61.74 g
Good Points
Source of Thiamin
High in Vitamin C
Source of Vitamin D
High in Potassium
Source of Copper
High in Vitamin B6
High in Manganese
High in Folate
High in Copper
High in Phosphorus
High in Iron
Source of Calcium
High in Magnesium
High in Vitamin B12
High in Phosporus
Source of Vitamin A
High in Niacin
High in Selenium
Source of Zinc