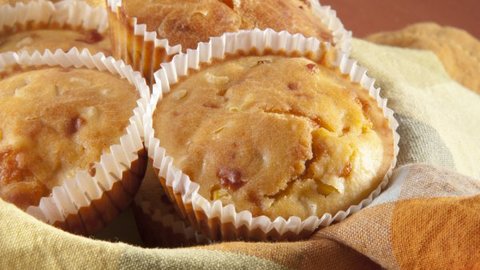 Cornbread and Cheddar muffin
Ingredients
Preparation
Active time 0 min
Ready in 30 min
Preparation
Preheat oven to 180°C.
Line 12 muffin holes with paper patty pans.
In a large mixing bowl, whisk together flour, cornmeal, baking powder, nutmeg and cheese.
In a separate mixing bowl, whisk together milk, egg and oil until combined.
Pour this mixture into the dry ingredient mixture, and stir with a spoon until just combined.
When well-combined, spoon the batter to muffin tin, to 2/3 full.
Bake for 20 minutes or until firm to the touch.
Serve when cooled to room temperature.
Nutrients (Per Person) These values are based on the recommended daily intake of a 2000 kCal diet
Of which saturates 4.00 g