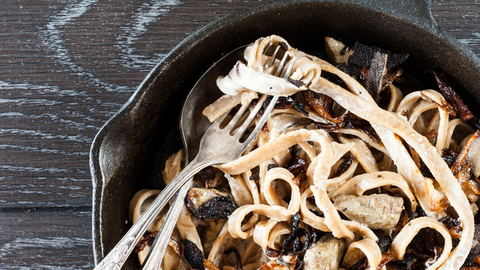 Ingredients
Preparation
Active time 1 hr 0 min
Ready in 2 hr 0 min
Preparation
Trim the fat and any sinew off the duck livers, then chop into small pieces.
Thinly slice the onions.
Boil the chicken stock in a small pan until it has reduced by 3 quarters and develops a syrup-like consistency.
Whilst the stock is reducing, add the butter and olive oil to a hot frying pan and when the butter starts to foam, add the duck livers. Cook on a high heat until the livers have browned all over.
Scoop out the livers and set aside, then add the onions and a pinch of salt to the same pan. Reduce the heat and cook gently for 45 minutes.
Cook the pasta according to the package instructions.
Add the red wine vinegar to the onions and simmer until reduced by half.
Add the reduced chicken stock and the livers to the onions.
Drain the pasta and mix together with the liver and onions, along with a couple of tablespoons of the pasta cooking water.
Serve immediately.
Nutrients (Per Person) These values are based on the recommended daily intake of a 2000 kCal diet
Of which saturates 5.69 g
Good Points
High in Potassium
High in Vitamin B6
High in Manganese
High in Folate
High in Copper
Source of Magnesium
High in Pantothenic acid
High in Phosphorus
High in Iron
High in Riboflavin
High in Zinc
High in Vitamin B12
High in Phosporus
High in Niacin
High in Selenium
High in Thiamin