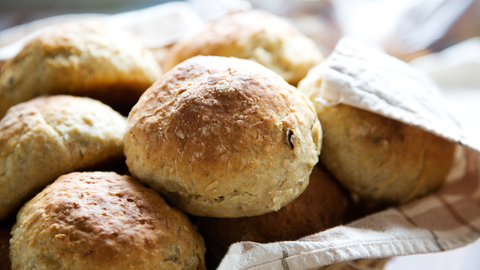 Easy-Bake Bread Rolls, 1 roll
Ingredients
Preparation
Active time 2 hr 10 min
Ready in 2 hr 25 min
Preparation
Put both flours in a large mixing bowl, then stir in the dried yeast and salt. Make a well in the centre.
Put the milk and butter into a small pan and heat gently, stirring frequently until the milk is warm and the butter has melted.
Pour the warm liquid into the well of the dry ingredients and stir to form a slightly sticky dough.
Turn the dough onto a floured work surface and knead for 7-8 minutes until smooth and elastic.
Put the dough in a lightly greased bowl and cover with clingfilm. Leave to rise in a warm place for 1 hour until the dough has doubled in size.
Lightly grease two baking sheets with the teaspoon of olive oil and dust lightly with flour.
Turn the dough onto a floured work surface and knead lightly.
Divide the dough into 16 evenly sized pieces. Roll each piece into balls and place on the baking sheets (8 on each) with plenty of space between each ball.
Cover with oiled cling film and leave in a warm place for 30-40 minutes until almost doubled in size
Meanwhile, preheat the oven to 220ºC/ fan 200C / gas mark 7.
Lightly dust the tops of the rolls with a little flour. Bake for 12-14 minutes until golden brown and the bases of the rolls sound hollow when tapped.
Transfer to a wire rack and cool before cutting.
Nutrients (Per Person) These values are based on the recommended daily intake of a 2000 kCal diet
Of which saturates 1.36 g
Good Points
Source of Thiamin
Source of Selenium
Source of Folate
No Sugar
Source of Riboflavin
Source of Manganese