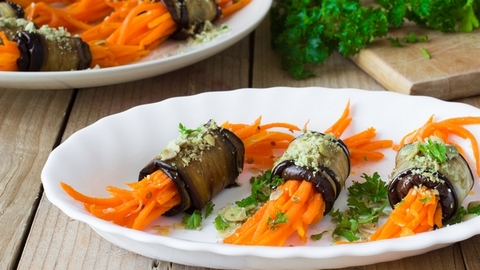 Eggplant rolls with spicy carrot
Ingredients
Preparation
Active time 0 min
Ready in 15 min
Preparation
Wash and slice the eggplants to 0.5cm wide slices.
Preheat the grill then sprinkle salt on the eggplant slices.
Place the eggplant slices onto the grill for 1 minute each side.
Meanwhile, heat the olive oil in a wok.
Combine the julienned carrot and spices in a bowl then stir to coat the carrot.
Put the carrot into the wok then cook until it's soft but still hard in the middle.
Fill a bunch of carrots into each eggplant slice then serve sprinkled with chopped coriander.
Serve while still hot.
Enjoy!
Nutrients (Per Person) These values are based on the recommended daily intake of a 2000 kCal diet
Of which saturates 0.66 g
Good Points
No Cholesterol
No Saturated Fat