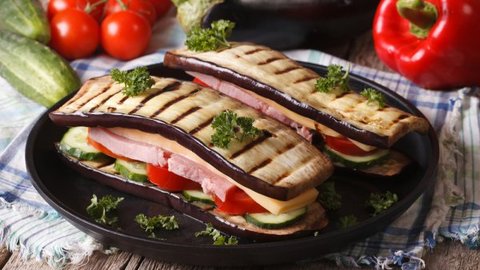 Ingredients
Preparation
Active time 0 min
Ready in 15 min
Preparation
Trim the eggplants.
Cut each eggplant in four slices by length.
Heat the grill pan.
Brush the eggplant with 1 tablespoon olive oil.
Grill the eggplant for 4 minutes per side.
Place aside.
Heat the remaining oil in a small skillet.
Add garlic and cook until fragrant.
Toss in the rucola and stir to combine.
Spread the rucola over two eggplant slices.
Sprinkle with sea salt flakes.
Top with cold beef cut or beef leftovers and tomato slices.
Sandwich with remaining eggplant slices.
Serve.
Nutrients (Per Person) These values are based on the recommended daily intake of a 2000 kCal diet
Of which saturates 5.18 g
Good Points
Source of Iron
High in Potassium
Source of Copper
High in Vitamin B6
Source of Selenium
High in Folate
Source of Vitamin C
Source of Pantothenic acid
Source of Vitamin E
High in Zinc
High in Vitamin B12
High in Niacin
Source of Manganese