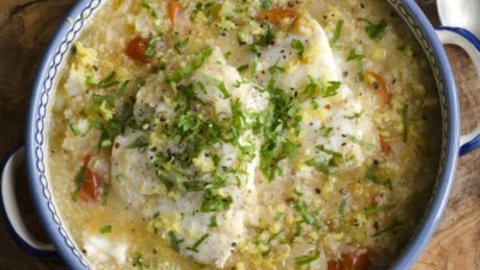 Fish fillet baked under couscous
Ingredients
Preparation
Active time 10 min
Ready in 30 min
Preparation
Preheat the oven to 180°C.
In a large bowl, combine the couscous, almonds, and cumin then season to taste with salt and pepper.
Stir in the 4 tablespoons olive oil and lemon juice.
Grease 18x26-cm baking dish with some oil.
Arrange the catfish fillets in a single layer in the dish, season with salt and pepper then drizzle with the remaining tablespoon olive oil.
Cover the fish with the couscous mixture then arrange the lemon slices on top.
Pour the water around the fish, cover with foil, and bake until tender, for about 25 minutes.
Top with the parsley before serving.
Nutrients (Per Person) These values are based on the recommended daily intake of a 2000 kCal diet
Of which saturates 5.39 g
Good Points
Source of Selenium
High in Phosphorus
Source of Vitamin E
High in Vitamin B12
High in Vitamin D
Source of Manganese