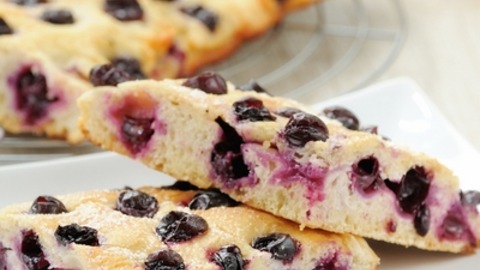 Ingredients
Preparation
Active time 10 min
Ready in 40 min
Preparation
In a mixing bowl, stir together water, milk, cane sugar, and yeast.
Set mixture aside for 10 minutes or until foamy.
Add flour, salt, and olive oil; whisk with mixer on low.
Attach the dough hooks and mix dough on medium speed for 7-8 minutes.
Drizzle large bowl with some olive oil; transfer the dough to oiled bowl and drizzle additionally with oil.
Cover with foil and set in warm room for 1 hour or until it doubles in bulk.
Gently punch down dough and transfer onto floured surface; divide into two parts.
Set balls on large oiled baking sheets then brush with some olive oil. Cover with clean kitchen towels and set aside for 20 minutes.
After 20 minutes, stretch each ball in 8-inch circle. Cover again and set aside for 1 1/2 hours, covered.
Preheat oven to 220°C and brush the tops of dough with olive oil, sprinkle with grapes, sugar, and some sea salt.
Bake for 15 minutes in preheated oven.
Set on wire rack to cool slightly before serving.
Nutrients (Per Person) These values are based on the recommended daily intake of a 2000 kCal diet
Of which saturates 0.95 g
Good Points
No Cholesterol
No Saturated Fat
Source of Folate