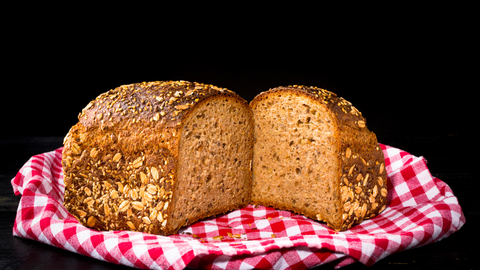 Ingredients
Preparation
Active time 3 hr 10 min
Ready in 3 hr 40 min
Preparation
Combine the flours, yeast, salt and sunflower seeds in a large mixing bowl.
Put the treacle and milk in a saucepan on a low heat and stir together until the treacle has melted, taking care not to let the mixture boil.
Take the pan off the heat and allow to cool slightly.
Pour the milk mixture into the dry ingredients and stir with a wooden spoon to combine.
When the mixture starts to come together, tip out onto a lightly floured surface and knead to a smooth dough.
Continue to knead for 10-15 minutes until the dough springs back to the touch.
Place the dough in a lightly greased mixing bowl, then cover with cling film. Leave in a warm place for 50-60 minutes until the dough has almost doubled in size and springs back when pressed.
Lightly grease a loaf tin.
Tip the dough onto a lightly floured work surface and gently knead to knock out any air pockets.
Shape into an oval and put in the loaf tin, then score the top once lengthways.
Sprinkle with the oats and a dusting of flour. Leave to rest in a warm place for 45 minutes.
Meanwhile, preheat the oven to 190°C/170°C fan/gas mark 5 and pour freshly boiled water into a roasting tray in the bottom of the oven. This will create steam to help the dough to rise and also creates a crusty exterior.
Bake the loaf for 45-50 minutes until golden, fragrant and crusty. To check the bread has fully cooked, lift it out of the tin and tap the bottom which should sound hollow.
Remove the loaf from the tin and leave to cool on a wire rack before slicing.
Nutrients (Per Person) These values are based on the recommended daily intake of a 2000 kCal diet
Of which saturates 0.57 g
Good Points
Source of Thiamin
Source of Selenium
No Saturated Fat
Source of Folate
Source of Manganese