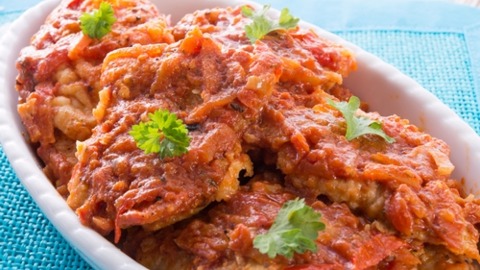 Ingredients
Preparation
Ingredients
900 g cod fillets
700 g tomatoes, raw, minced
150 ml white wine
50 ml water
2 tbsp olive oil
1 tbsp tomato paste
2 clove garlic, crushed
1 tbsp lemon juice, fresh
3 tbsp parsley, fresh, chopped
1 tsp sweet red paprika powder
0.5 tsp salt, fresh ground
1 pinch black pepper, fresh ground
Active time 15 min
Ready in 1 hr 5 min
Preparation
Season the fish fillets with salt and pepper.
Grease a baking dish with half of the olive oil.
Place the cod fillets into the dish then pour over lemon juice.
Cover and refrigerate for 30 minutes.
Meanwhile, combine tomato paste with water.
Heat remaining oil in skillet; add onions and cook for 5 minutes.
Add garlic and cook for 30 seconds.
Stir in the tomatoes, paprika, dissolved tomato paste, wine, and pinch of salt and pepper.
Simmer uncovered, stirring often until sauce is fragrant and reduced, for 15 minutes.
Preheat the oven to 180°C.
Remove the sauce from the heat, stir in parsley.
Remove the fish from the fridge and pour over the tomato mixture.
Bake the fish for 30 minutes, basting fish every 10 minutes.
Nutrients (Per Person) These values are based on the recommended daily intake of a 2000 kCal diet
Of which saturates 1.47 g
Good Points
Source of Thiamin
High in Vitamin C
Source of Iron
High in Vitamin E
High in Potassium
High in Vitamin B6
Source of Folate
Source of Magnesium
High in Phosphorus
High in Vitamin B12
High in Vitamin D
High in Phosporus
Source of Vitamin A
High in Niacin
High in Selenium