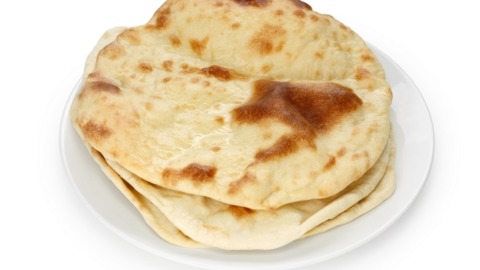 Indian Naan Bread, 2 pieces
Ingredients
Preparation
Active time 20 min
Ready in 45 min
Preparation
Knead all ingredients together until the dough is no longer sticky.
Leave it to rest for half an hour.
Form 8 scoops from the dough.
Use your palms and a rolling pin to flatten them.
Cut small circles.
Grab a Teflon pan.
Fry the circles on high temperature for 2 minutes.
Nutrients (Per Person) These values are based on the recommended daily intake of a 2000 kCal diet
Of which saturates 0.64 g
Good Points
Source of Calcium
High in Phosporus
No Saturated Fat
High in Iron
High in Manganese
High in Niacin
High in Phosphorus
High in Riboflavin
High in Folate
High in Selenium
High in Thiamin