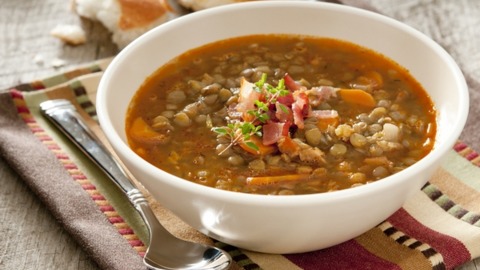 Ingredients
Preparation
Ingredients
950 ml homemade beef stock
425 g canned tomatoes, crushed
350 g pre-cooked lentils
3 clove garlic, minced
1 pcs carrots, peeled, thinly sliced
1 pcs celery stalk, diced small
1 pcs bay leaf, whole
0.5 pcs onion, finely diced
1 tbsp olive oil
1 tbsp red wine vinegar
1 tsp cumin, ground
0.5 tsp fresh ground salt
0.5 tsp Black pepper, ground
Active time 10 min
Ready in 40 min
Preparation
Heat olive oil in large sauce pan, over medium-high heat and when it starts to simmer, add onion, celery, and carrot.
Cook until soft for 10 minutes; stir in garlic and cumin; cook for 1 minute or until fragrant.
Season with salt and pepper and stir in vegetable stock.
Add tomatoes, lentils, and bay leaf; cover and bring to a simmer for about 15 minutes.
Reduce heat to low and simmer for an additional 15 minutes.
Add vinegar; cook for 15 more minutes.
Serve while still hot with a dollop of sour cream and a slice of bread.
Nutrients (Per Person) These values are based on the recommended daily intake of a 2000 kCal diet
Good Points
Source of thiamin
Source of Iron
Very high in dietary fiber
No cholesterol
No saturated fat
High in Folate
High in Phosporus
Source of Manganese