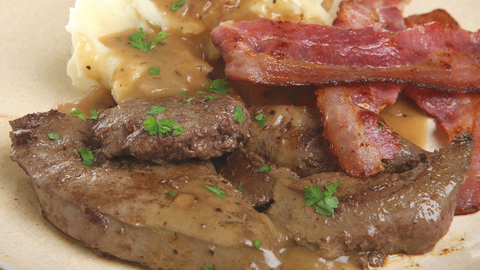 Liver and Bacon With Mash
Ingredients
Preparation
Active time 30 min
Ready in 1 hr 0 min
Preparation
Peel and dice the potatoes, then add to a large pan of boiling water and simmer for 15 minutes until al dente.
Once cooked, drain the potatoes. Return to the dry pan and cover to keep warm.
In a small pan, gently heat the milk. Add the chopped spring onions and cook for 2-3 minutes, until the onions are soft.
Add to the potatoes, then mash and season. Cover and set aside.
Grill the bacon until crispy.
Thinly slice the liver. Season on both sides with salt and pepper, then coat lightly in the flour.
Heat a large frying pan over a high heat and once hot, add the oil and then cook the liver for 2 minutes on each side, until nicely browned on the outside, but still juicy on the inside.
Add the balsamic vinegar to the pan and toss over the liver.
Divide the mash between 4 plates. Top with the liver and bacon, then drizzle the pan juices over the top and serve immediately.
Nutrients (Per Person) These values are based on the recommended daily intake of a 2000 kCal diet
Of which saturates 8.56 g
Good Points
High in Copper
Source of Manganese
High in Phosporus
Source of Thiamin
Source of Vitamin C
High in Iron
High in Niacin
High in Pantothenic acid
High in Phosphorus
High in Potassium
High in Riboflavin
High in Folate
High in Selenium
High in Vitamin B12
High in Vitamin B6
High in Zinc
Source of Vitamin D