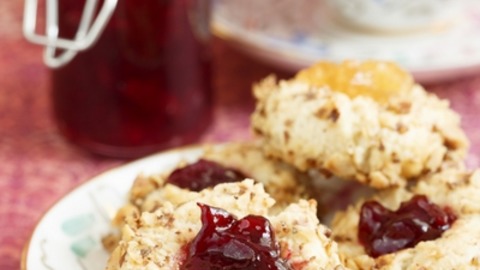 Ingredients
Preparation
Active time 15 min
Ready in 40 min
Preparation
Combine chopped nuts in a heat-safe pan and roast them gently without oil or salt.
When it's ready, set aside for cooling.
Preheat oven to 180°C.
Use an electric mixer, fitted with paddle, to cream butter and sugar.
Stir in the vanilla and combine well.
Add the flour little by little with the mixer on low speed.
Continue mixing until the mixture starts coming together.
Scoop out the dough onto a floured work surface and roll into a flat disk.
Cover with plastic wrap and chill in the fridge for half an hour.
Roll the dough into approximately 30-gram balls.
Make an egg wash by beating the egg together with the 1 tablespoon of water.
Dip each dough ball in the egg wash and roll it in the nut mix.
Gently place the balls on an ungreased cookie sheet then use your thumb to make a slight indentation at the center of each ball.
Drop about a quarter teaspoon of jam in the indentation.
Bake for about 25 minutes, until the nuts turn golden.
Place on a cooling rack and serve.
Nutrients (Per Person) These values are based on the recommended daily intake of a 2000 kCal diet
Good Points
Very low in sodium