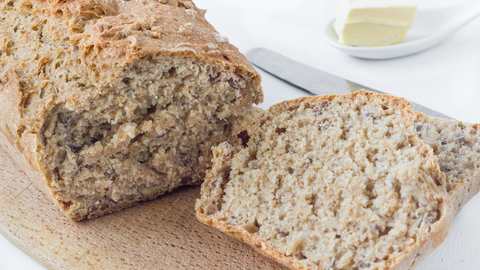 Ingredients
Preparation
Active time 3 hr 20 min
Ready in 3 hr 40 min
Preparation
Butter two loaf tins.
Put the oats in a large mixing bowl and cover with boiling water. Allow to soften for 1 hour.
Add the molasses, butter and yeast to the oats and mix well.
Add the flour, 1 cup at a time, mixing well after each addition until a dough starts to form. Cover with a towel and leave to rise in a warm place for 1 hour or until doubled in volume.
Turn the dough onto a lightly floured surface. Shape into 2 balls and leave to rest for 10 minutes.
Shape the balls into loaves and place in the bread tins.
Cover the loaves with a damp cloth and leave to rise for 30 minutes or until doubled in volume.
Meanwhile, preheat the oven to 190°C/170°C fan/gas mark 5.
Bake the loaves for about 40 minutes until the tops are golden brown.
Turn onto a wire rack and leave to cool before cutting.
Nutrients (Per Person) These values are based on the recommended daily intake of a 2000 kCal diet
Of which saturates 1.16 g
Good Points
Source of Niacin
Source of Riboflavin
Source of Selenium
Source of Thiamin
High in Folate