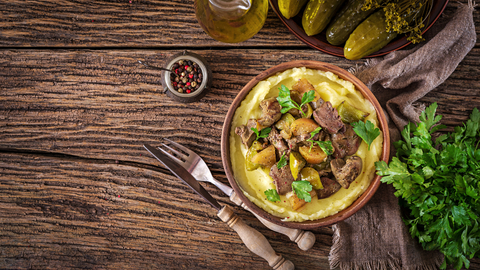 Peppered Liver With Sweet Potato
Ingredients
Preparation
Ingredients
600 g sweet potatoes
1 tbsp honey
6 pcs shallot
2 tbsp olive oil
1 clove garlic
150 ml Dark beer
3 tbsp all purpose flour
300 ml Beef stock
2 tsp brown sugar
2 tsp white wine vinegar
1 tsp worcestershire sauce
1 tsp Black pepper, ground
500 g Beef liver
Active time 35 min
Ready in 1 hr 10 min
Preparation
Peel and chop the sweet potatoes into chunks.
Finely slice the shallots and crush the garlic.
Mix the black pepper with 1 tablespoon of the flour, then roll the liver slices in the flour mixture to coat.
Place the sweet potato chunks in a pan and cover with water. Bring to the boil and cook for 15 minutes until tender.
Once ready, drain the sweet potatoes and mash with the honey. Place a lid on the pan to keep warm and set aside.
Put the shallots in a large frying pan with 200ml water and boil until the water evaporates. Add 1 tablespoon of the olive oil and fry the shallots, stirring continuously until they start to caramelise.
Add the garlic and Guinness to the shallots and boil until the liquid is reduced to 3-4 tablespoons.
Stir in the remaining flour, then gradually stir in the stock and sugar. Simmer for 2 minutes.
Next, add the vinegar and Worcestershire sauce, then season to taste. Set aside.
Put the remaining oil in a non-stick frying pan and fry the liver for 1-2 minutes each side until pink.
Divide the sweet potato mash between 4 plates. Top with the liver and onions, then serve.
Nutrients (Per Person) These values are based on the recommended daily intake of a 2000 kCal diet
Of which saturates 2.69 g
Good Points
High in Copper
Source of Magnesium
High in Phosporus
Source of Vitamin E
High in Iron
High in Manganese
High in Niacin
High in Pantothenic acid
High in Phosphorus
High in Potassium
High in Riboflavin
High in Folate
High in Selenium
High in Thiamin
High in Vitamin B12
High in Vitamin B6
High in Zinc
Source of Vitamin D