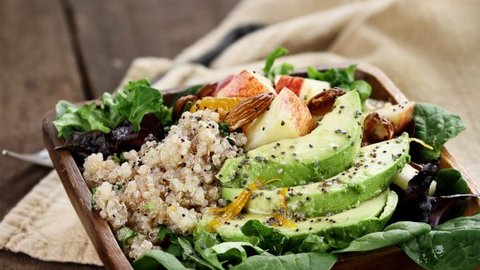 Quinoa apple avocado salad
Ingredients
Preparation
Active time 0 min
Ready in 25 min
Preparation
Cook the quinoa according to package instructions.
Remove from heat and fluff with a fork.
Place aside to cool.
In a bowl, combine the baby spinach, avocado, and sliced apple.
In a bowl, whisk the oil, lemon juice, mustard, and salt.
Slowly drizzle oil over the veggies and apples.
Add the cooled quinoa and toss to combine.
Serve.
Nutrients (Per Person) These values are based on the recommended daily intake of a 2000 kCal diet
Good Points
No cholesterol
High in Folate
Low in sugar
Low in Sodium
Low in saturated fat
Source of Vitamin A
Source of Manganese