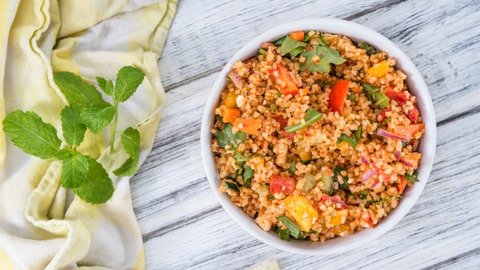 Ingredients
Preparation
Active time 0 min
Ready in 30 min
Preparation
Cook the bulgur according to package instructions.
Spread the cooked bulgur onto a baking sheet to cool.
Heat olive oil in a skillet.
Add shallot and cook for 5 minutes.
Add the tomatoes and cook, for 5-7 minutes mashing to strain juices as much as possible.
Remove the tomatoes from heat and stir in the mint and bulgur.
Season to taste and transfer to a bowl.
Cover and chill in the fridge for 30 minutes.
Serve sprinkled with chives.
Nutrients (Per Person) These values are based on the recommended daily intake of a 2000 kCal diet
Good Points
Very low in saturated fat
Very high in dietary fiber
No cholesterol
High in manganese
Low in Sodium