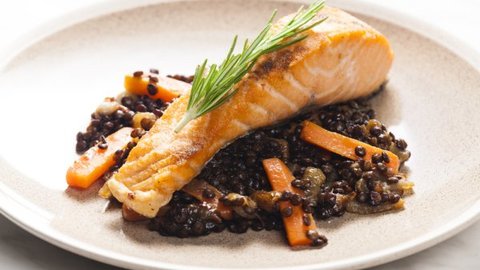 Ingredients
Preparation
Ingredients
672 g salmon fillet
380 g lentils
49.090909090909 ml olive oil
240 ml homemade chicken stock
1 pcs onion, diced
1 tsp garlic, chopped
225 g celery stalk, finely chopped
192 g carrots, peeled and coarsely grated
0.5 tsp pepper, black ground
158 g tomato, finely chopped
Active time 0 min
Ready in 45 min
Preparation
Place the lentils in a saucepot.
Cover with water and cook until barely tender.
Drain.
In a meantime, heat the olive oil in a saucepan.
Add the onions and a good pinch of black pepper.
Cook for 10 minutes over medium heat.
Add the garlic and cook for 2 minutes.
Add the lentils, celery, and carrots, chicken stock and tomato.
Cover and simmer for 20 minutes.
Heat oven to 220C.
Rub the salmon with olive oil and season with black pepper.
Heat the pan over high heat.
Place the salmon, seasoned side down and cook for 2 minutes without moving.
Turn the fillets and place in the oven.
Cook for 7 minutes or until browned nicely.
Spoon lentils on a plate and top with salmon.
Serve.
Nutrients (Per Person) These values are based on the recommended daily intake of a 2000 kCal diet
Of which saturates 7.54 g
Good Points
Source of Calcium
Source of Copper
High in Copper
High in Phosporus
High in Iron
High in Magnesium
High in Manganese
High in Niacin
High in Pantothenic acid
High in Phosphorus
High in Potassium
High in Riboflavin
High in Folate
High in Selenium
High in Thiamin
High in Vitamin B12
High in Vitamin B6
High in Vitamin C
High in Vitamin E
High in Zinc