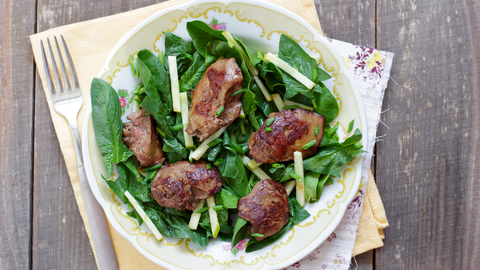 Seared Chicken Livers With Lentil and Rocket
Ingredients
Preparation
Active time 5 min
Ready in 25 min
Preparation
Thinly slice the shallots and red pepper.
Rinse and drain the lentils.
Place the shallots, rocket, lentils and red pepper in a bowl.
Add half the oil, the vinegar and a pinch of salt and pepper, then toss to coat.
Trim the sinew off the livers and cut each one in half. Season with salt and pepper.
Heat the remaining oil in a non-stick frying pan over a high heat.
When the pan is very hot, cook the livers in batches for 1 minute on each side. They should still be slightly pink.
Divide the salad among 4 plates, then top with the livers and serve immediately.
Nutrients (Per Person) These values are based on the recommended daily intake of a 2000 kCal diet
Of which saturates 3.11 g
Good Points
High in Vitamin C
High in Potassium
Source of Copper
High in Vitamin B6
High in Manganese
High in Folate
High in Copper
Source of Magnesium
High in Pantothenic acid
High in Phosphorus
High in Iron
High in Riboflavin
Source of Vitamin E
High in Zinc
High in Vitamin B12
High in Phosporus
High in Niacin
High in Selenium
High in Thiamin