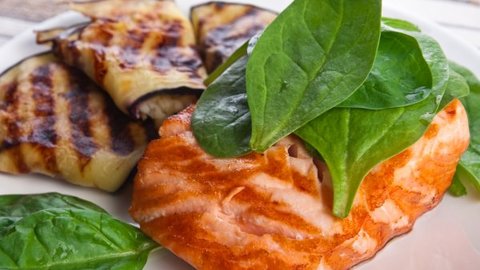 Spiced fish with eggplant
Ingredients
Preparation
Ingredients
600 g salmon fillets
1 pcs eggplant, trimmed, cut into 1.5cm cubes
2 tbsp olive oil
2 tbsp lemon juice, fresh
400 g tomato, finely chopped
30 g parsley, fresh, chopped
1 tsp cumin, ground
1 tsp coriander seeds, ground
1 pcs red bell peppers, diced
2 tsp chili powder
0.25 tsp pepper, black ground
Active time 0 min
Ready in 25 min
Preparation
Place fish in a shallow bowl with 1 tablespoon lemon juice.
Sprinkle with chili powder and set aside.
Heat 1 tablespoon olive oil in a frying pan.
Add the eggplant and bell pepper.
Cook, stirring for 8 minutes.
Add the coriander seeds, black pepper, and cumin seeds.
Stir to coat and add the tomatoes.
Cook the tomatoes for 6-8 minutes.
Transfer the veggies to a bowl and set aside.
Wipe the frying pan.
Heat the remaining olive oil in the pan.
Add the fish and cook for 3-4 minutes per side.
Just before serving stir in the parsley and remaining lemon juice.
Divide the eggplant between plates.
Top with fish.
Nutrients (Per Person) These values are based on the recommended daily intake of a 2000 kCal diet
Of which saturates 5.93 g
Good Points
High in Vitamin C
Source of Iron
High in Vitamin E
High in Potassium
Source of Copper
High in Vitamin B6
High in Folate
High in Phosphorus
Source of Pantothenic acid
High in Magnesium
High in Vitamin B12
High in Phosporus
Source of Riboflavin
High in Niacin
Source of Manganese
High in Selenium