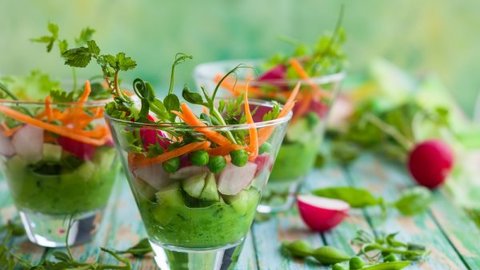 Spring vegetables with broccoli hummus
Ingredients
Preparation
Active time 0 min
Ready in 20 min
Preparation
Place the broccoli in a steamer basket.
Pour 2-inch water in a saucepan. and place the steamer basket over it.
Bring the water to a simmer and steam the broccoli for 4 minutes.
Place the broccoli in a food blender along with lemon juice and zest, garlic, and black pepper.
Blend together until smooth.
Serve the hummus in a serving cup and chill in a fridge for 15 minutes.
In a meantime, cut the carrots in matchsticks.
Do the same with celery.
You can also use some other veggies.
Serve veggies with chilled dip.
Nutrients (Per Person) These values are based on the recommended daily intake of a 2000 kCal diet
Of which saturates 0.01 g
Good Points
No Cholesterol
No Saturated Fat
No Sugar