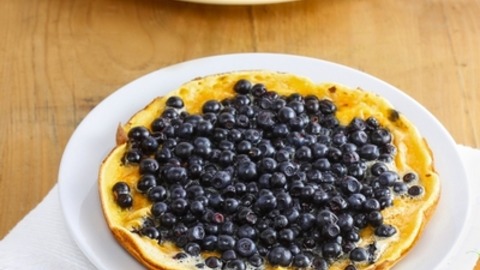 Ingredients
Preparation
Active time 20 min
Ready in 40 min
Preparation
Separate the egg yolks and whites.
Beat egg yolks with sugar until they become light yellow.
Whisk egg whites until stiff. Gently fold yolks into the whites.
Melt the butter, carefully add to the egg mixture. Note that the hot butter could make your mixture into fried eggs, be really careful to avoid this.
Spread the half of the batter into the pan with a spatula. Fry it over moderate heat until the underside is set and golden.
Put the filling (anything you want, for example, cherries, berries, some fruit syrup, or anything else) into the half of the pancake, then fold the other side on it. Fry a little more to be well-done.
Place the omelette on a dish, and serve with icing sugar.
Nutrients (Per Person) These values are based on the recommended daily intake of a 2000 kCal diet
Good Points
Low in sugar
Low in Sodium
Source of Riboflavin
High in selenium