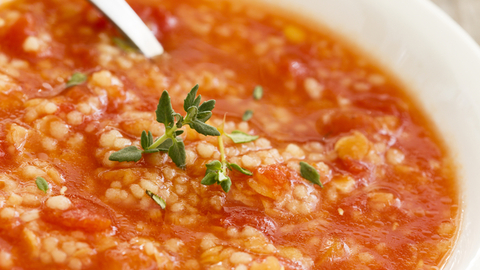 Ingredients
Preparation
Active time 20 min
Ready in 30 min
Preparation
Heat olive oil in a large saucepan.
Add the onion and carrot and cook for 5 minutes over medium-high heat.
Add the garlic, chili, and cumin and cook for 1 minute.
Add the celery and tomatoes and cook for 2-3 minutes.
Add the stock and bring to a boil.
Reduce heat and simmer for 10 minutes.
Add the couscous and remove from the heat.
Cover the saucepot with lid and place aside for 3 minutes or until the couscous is tender.
Serve warm.
Nutrients (Per Person) These values are based on the recommended daily intake of a 2000 kCal diet
Of which saturates 0.88 g
Good Points
High in Vitamin C
Source of Iron
High in Potassium
Source of Copper
No Cholesterol
No Saturated Fat
Source of Folate
Source of Vitamin B6
Source of Vitamin E
Source of Manganese
Source of Phosporus