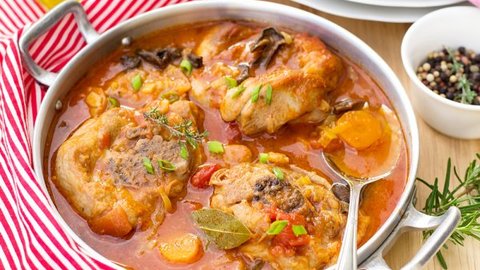 Turkey ossobucco in tomato sauce
Ingredients
Preparation
Ingredients
2 pcs turkey drum, halved
180 ml tomato sauce
3 tbsp olive oil
320 ml homemade chicken stock
1 pcs large carrots, diced
1 pcs onion, finely chopped
1 pcs celery stalk, finely chopped
1 pcs bay leaf, whole
0.5 tsp fine sea salt
0.25 tsp pepper, black ground
Active time 0 min
Ready in 55 min
Preparation
Heat oven to 180C.
Heat olive oil in a heavy-bottomed pot.
Add the turkey legs and cook until browned.
Remove turkey legs and place aside.
Reduce heat to medium.
Add carrot, onion, and celery.
Season to taste.
Cook for 8-10 minutes.
Add the stock and cook for 2-3 minutes.
Add the tomato sauce and bring to a boil.
Place the turkey legs back in the pot and make sure they are submerged at least halfway.
Add the bay leaf.
Cover the pot tightly and place in oven.
Bake for 35 minutes.
Serve warm.
Nutrients (Per Person) These values are based on the recommended daily intake of a 2000 kCal diet
Good Points
Source of Iron
Source of Vitamin D
High in Potassium
Source of Copper
High in vitamin B6
Source of Folate
Low in sugar
Source of Magnesium
High in pantothenic acid
High in phosphorus
High in riboflavin
Source of vitamin E
High in zinc
High in vitamin B12
High in Phosporus
Source of Vitamin A
High in niacin
High in selenium