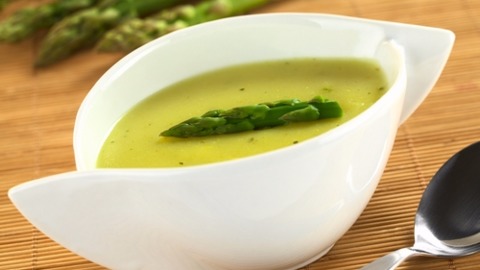 Vegan asparagus cream soup
Ingredients
Preparation
Active time 0 min
Ready in 30 min
Preparation
Heat the olive oil in sauce pan over medium-high heat.
Add onion then cook, stirring for 5-6 minutes or until tender.
Add asparagus and potatoes then cook for 1-2 minutes more.
Add the stock and bring to a boil; reduce heat and simmer for 5-7 minutes.
Add basil during last minutes of cooking.
Remove from the heat and purée the soup using immersion blender.
Serve with toasted rye bread sticks, croutons, or some gluten-free garnishing.
Nutrients (Per Person) These values are based on the recommended daily intake of a 2000 kCal diet
Good Points
Low in sugar
Source of Copper
High in Copper
Source of Vitamin A
Source of vitamin B6
Source of Vitamin C
No cholesterol
High in Iron
High in manganese
High in Potassium
High in Folate
High in vitamin E
Very low in saturated fat
Source of Phosporus