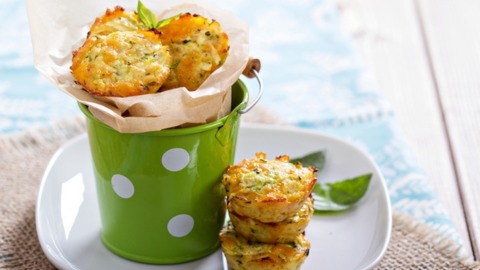 Zucchini and cheese mini muffins
Ingredients
Preparation
Ingredients
300 g zucchini, peeled, shredded
3 tbsp pumpkin seeds, toasted
150 g all purpose flour, sifted
2 pcs eggs
2 tbsp chives, fresh, chopped
250 g nature yogurt
200 g butter, unsalted, melted
100 g Gouda, grated
80 g Edam, grated
0.5 tsp salt
1 tsp baking powder
1 pinch black pepper, ground
Active time 25 min
Ready in 50 min
Preparation
Preheat the oven to 200°C.
After shredding the zucchini, place a saucepan onto medium heat, and stew the zucchini until it's tender.
Since it contains much water, you need to drain it before mixing with the other ingredients.
Mix the flour and the baking powder in a bigger bowl.
Take another bowl and mix the eggs, yoghurt, and melted butter in it.
Add all the wet ingredients to the flour.
Blend well.
Add the zucchini, chives, and grated cheese, season the mixture to taste.
Be careful since the cheese already added some saltiness.
At the end, stir in the pumpkin seeds.
You may keep some of them for decorating the tops.
Prepare the 12-holed mini muffin form, place in the muffin papers and spoon the mixture in.
The mixture should fill the papers almost to the top, but leave 0.5cm free.
Bake the muffins in the preheated oven for 15-20 minutes.
Serve warm or cooled with sour cream!
Nutrients (Per Person) These values are based on the recommended daily intake of a 2000 kCal diet
Good Points
Very low in sugar
Low in Sodium